10 SANParks Finds to Feast Your Eyes on
Reading time: 8 minutes
---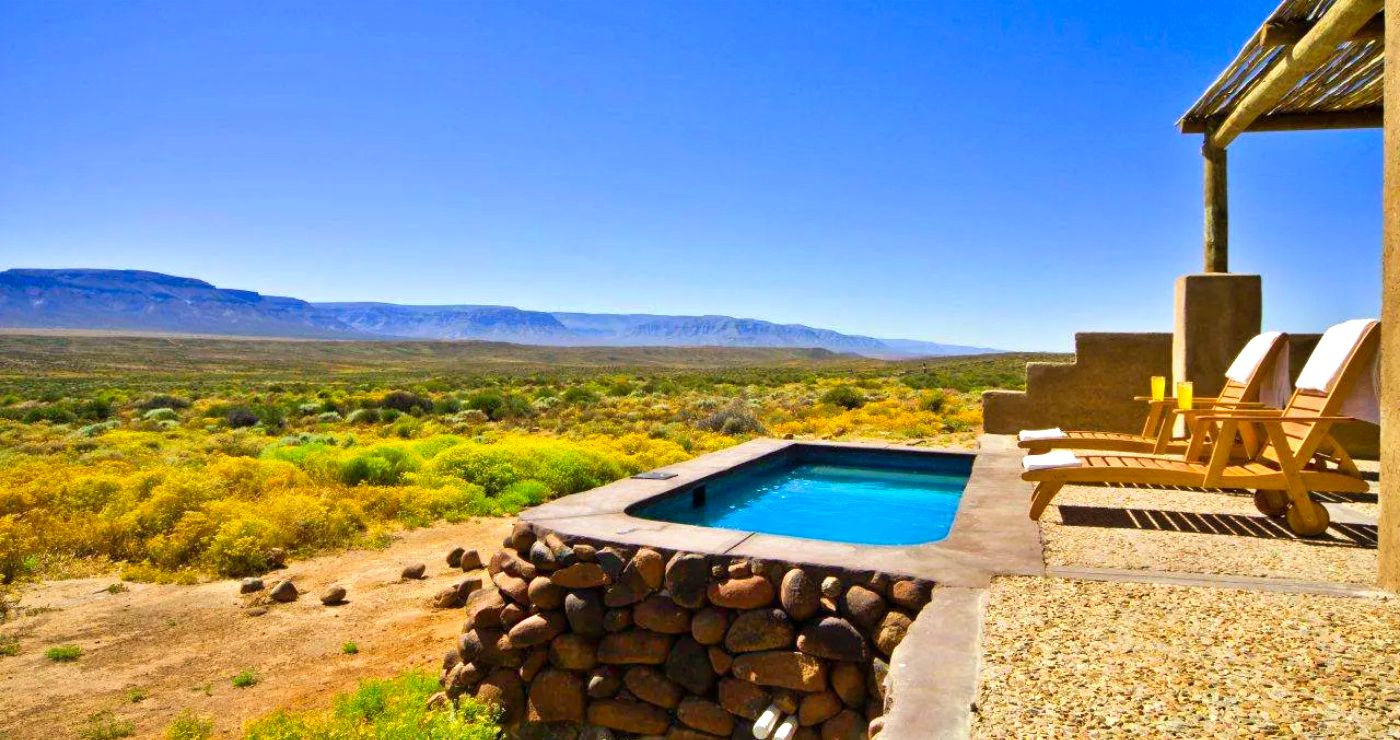 ---
While our country's superb natural beauty waits for us to return and enjoy it with new eyes and grateful spirits, TravelGround has compiled a list of ten spectacular SANParks stays to add to your post-lockdown travel list. Feast your eyes on these beauties!
SANParks Augrabies Rest Camp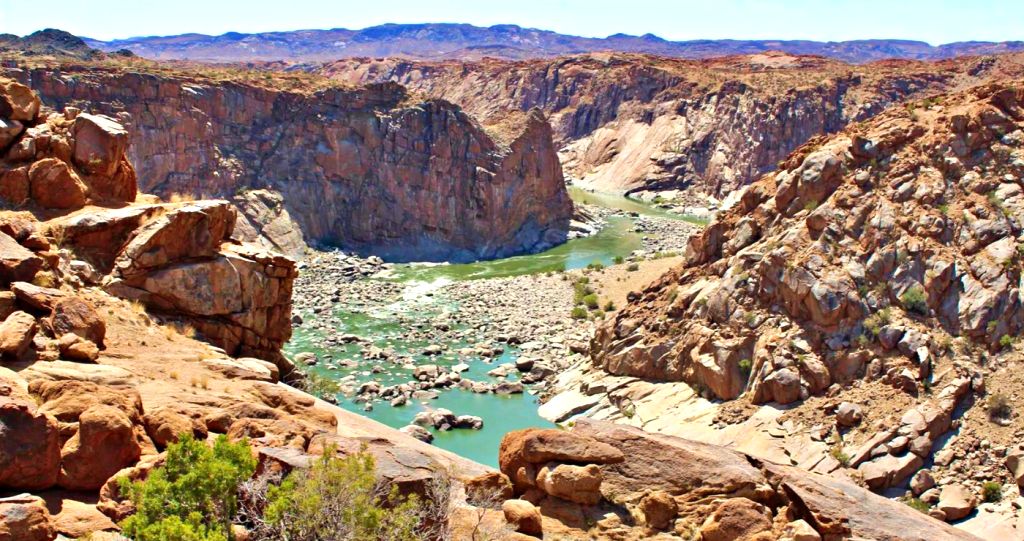 When the summer flood season arrives, visitors flock to this arid national park to view the Augrabies Waterfall in all its stormy glory from convenient, wheelchair-friendly decks and wooden pathways. At this time of year the waterfall definitely earns its Khoi name, 'Aukoerebis', meaning 'place of great noise'. However, this moon-like landscape offers much to see during the rest of the year too, such as klipspringers, quiver trees and fifty thousand hectares of pristine riverine ecosystem.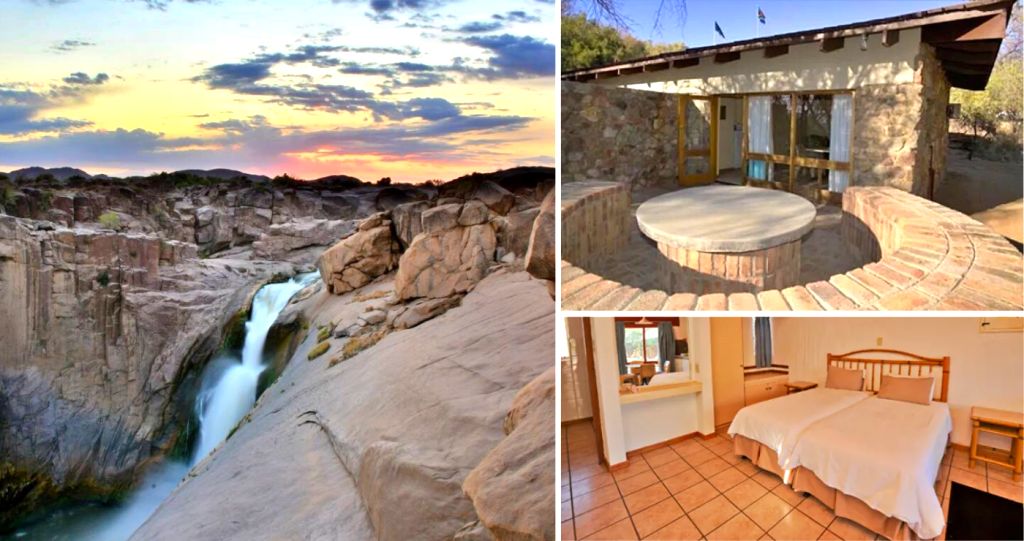 Accommodation is offered in 2 to 4-sleeper cottages each and at camping stands with power points and communal ablution and kitchen facilities. There is a licensed restaurant and a shop with provisions on the premises and the three swimming pools are for the exclusive use of guests.
Click here to view the rates.*
_____________________________________
SANParks Tshugulu Lodge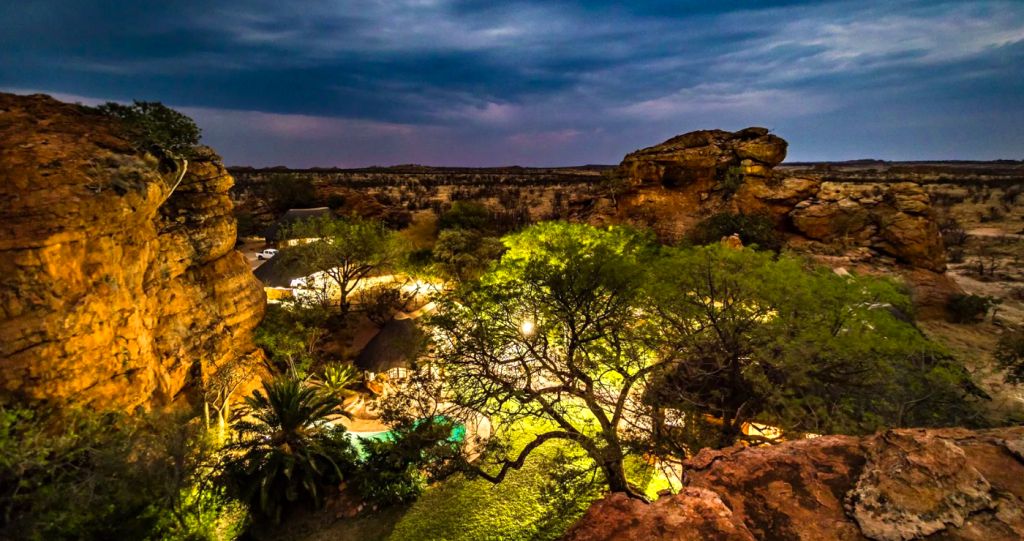 The Mapungubwe National Park, where this lodge is situated, is close to the Botswana and Zimbabwe borders. You won't just find fauna and flora here ─ there is a rich history to be discovered, one that is illustrated by beautiful artefacts from the ancient Kingdom of Mapungubwe that can be seen in the Interpretive Centre on the premises. Be sure to book a guided walk to the regal Baobab and Mashatu trees dotted along the riverine forest with much to marvel at along the way.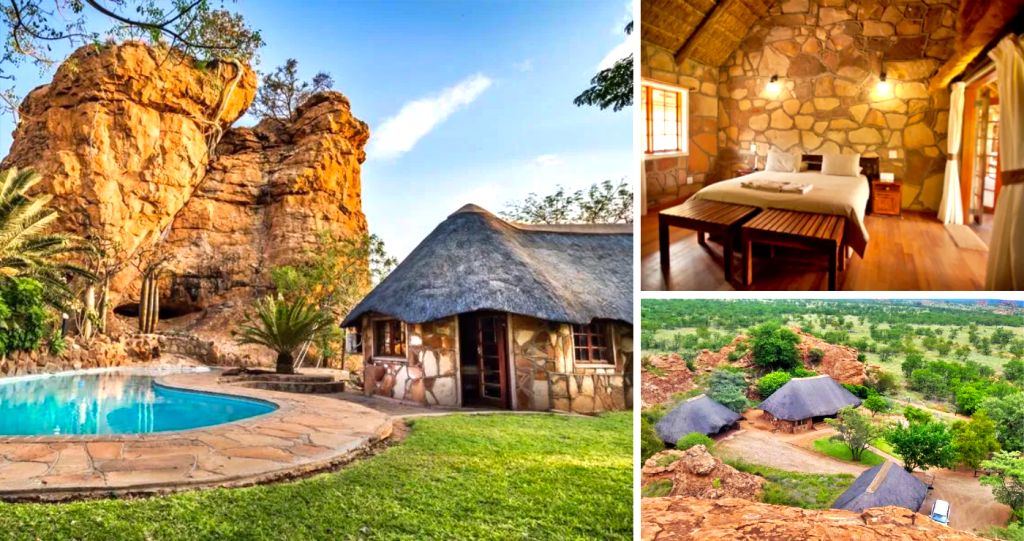 Accommodation is offered in a luxurious 6-bedroom lodge which sleeps twelve. There is a fireplace, swimming pool and, if you're not keen to cook, also a restaurant on the premises. 
Click here to view the rates.*
_____________________________________
SANParks Skilpad Rest Camp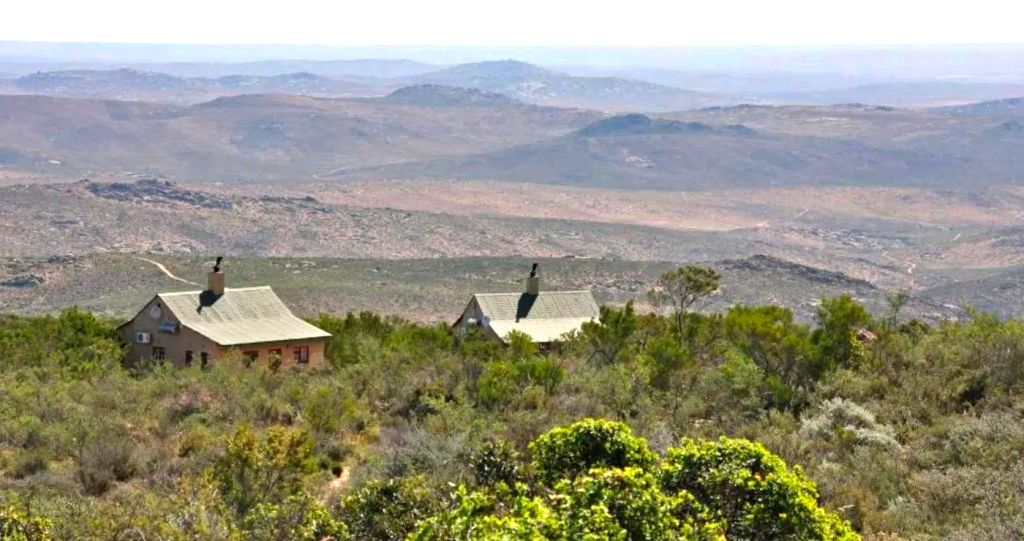 These quaint cottages, perched on a plateau in the Namaqua National Park, offer pristine nature in the heart of the Karoo. The park spans the well-known Skilpad Region near Kamieskroon all the way to the West Coast Plateau and guests can take in the smiling wildflower faces that make their appearance in August through October. At other times of the year, you'll be enchanted by clear starry nights, the region's fauna, quiver trees stretching towards the sky, granite outcrops and the Atlantic Ocean in the distance. Make sure you get to know the park up close by trying at least one of the two 2-hour walking trails.
Accommodation is offered in four self-catering cottages which sleep three adults or two adults and two children. Each unit has a veranda, fireplace, outside braai and an uninterrupted view toward the coast.
Click here to view the rates.*
_____________________________________
SANParks Agulhas Rest Camp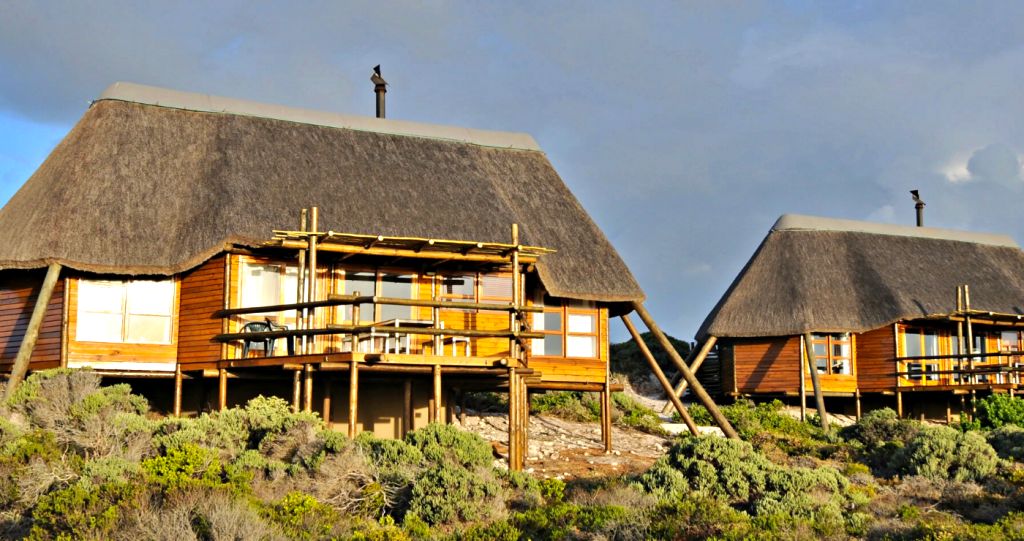 About ten kilometres from the striking Cape Agulhas Lighthouse, you'll find these beautiful stilted units, built to eco-friendly standards whilst allowing guests to experience nature at its very best. If you haven't been to the southernmost tip of Africa where the Atlantic and Indian Oceans meet, it's about time you experience the legendary Cape of Storms, not to mention the quaint coastal towns of L'Agulhas en Struisbaai.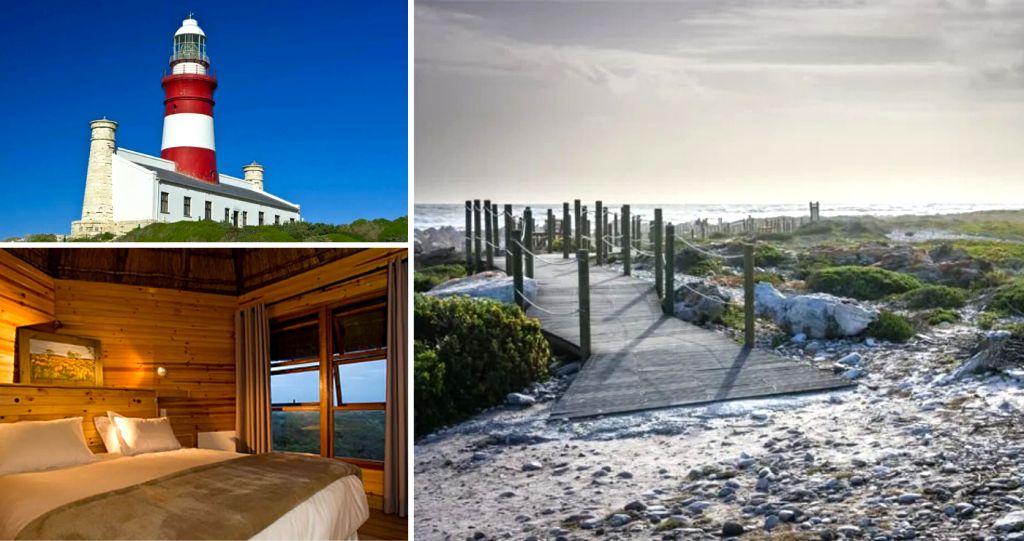 Accommodation is offered in self-catering chalets which sleep two to four guests each and a self-catering house which sleeps eight.
Click here to view the rates.* 
_____________________________________
SANParks Knysna Lakes Section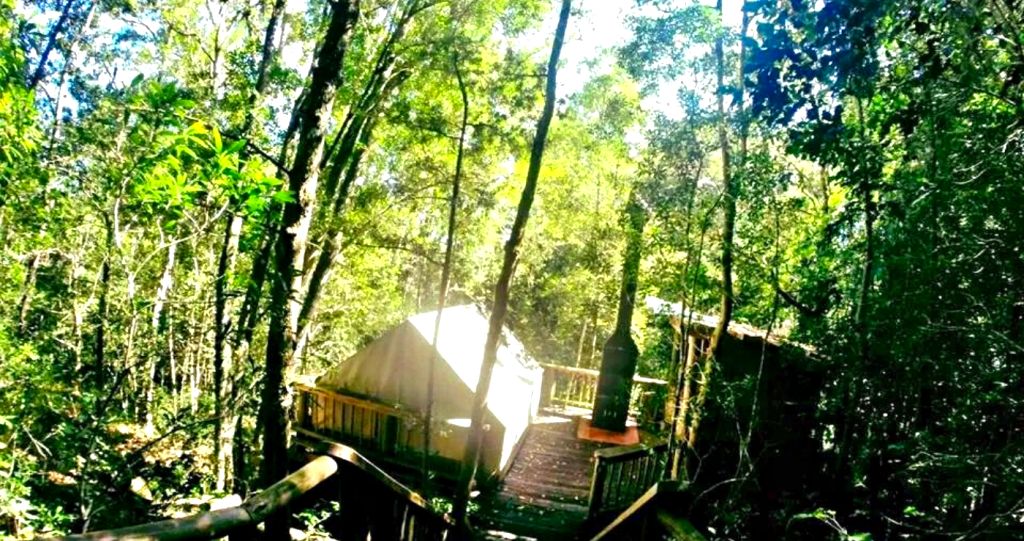 Known for its magical, mystical greenery and yellowwood trees that have lifted their branches to the canopy for more than a thousand years, this park in the Knysna Forest is the stuff Dalene Matthee's novels are made of. Guests can look forward to a lovely forest stay with lush hiking and mountain biking trails, pristine swimming spots and the odd Knysna lourie or deer darting behind a tree or a fern.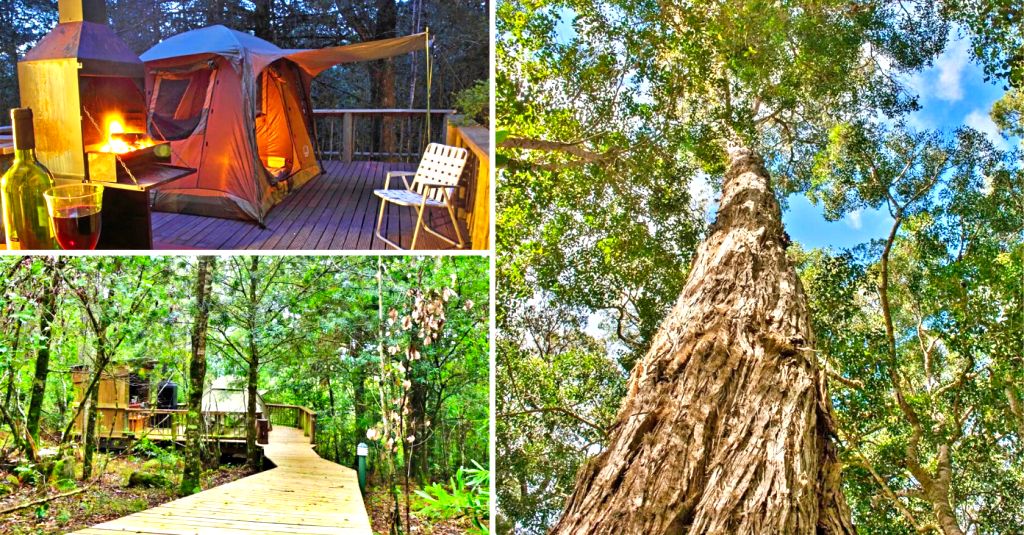 Accommodation is offered on elevated camping decks which have braai facilities, power points, and access to communal self-catering and ablution facilities. The permatents sleep two guests on twin beds and also share the catering and ablution facilities. Lastly, the 4-sleeper Treetop Chalet is equipped for self-catering and has its own bathroom. 
Click here to view the rates.* 
_____________________________________
SANParks Kalahari Tented Camp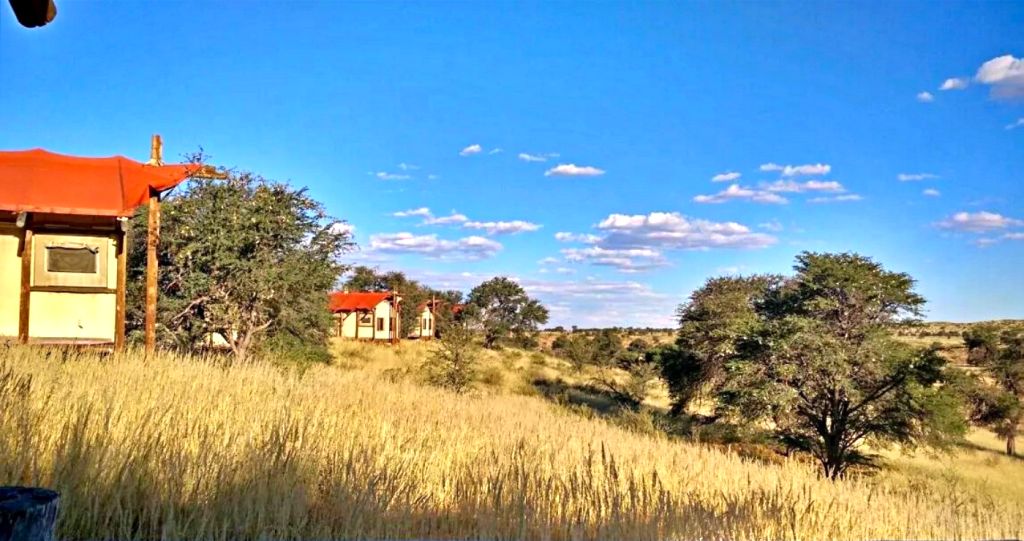 Experience the Kgalagadi Transfrontier Park's unspoilt nature from atop one of its characteristic red sand dunes, three kilometers from the Mata-Mata Rest Camp at this tented camp. Herds of gemsbok, springbok, eland and blue wildebeest can be seen as they trek through the park and camel thorn trees offer much-needed shade for black-mane lions, leopards and birds of prey.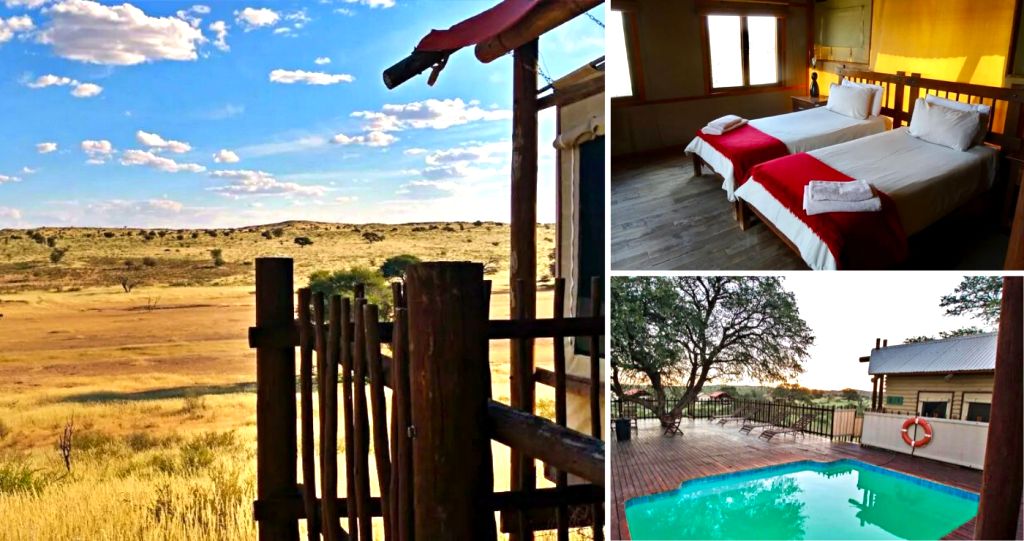 Accommodation is offered in fifteen perched desert tents offering a view of the Auob's dry riverbed. Each spacious tent comprises a bedroom, bathroom and a separate kitchen and is powered by solar panels and gas. However, the tents don't have conventional power points. The camp is unfenced, but a tourism guide is nearby at all times. Guests can enjoy a swim in the communal pool and there are guided tours in the mornings and afternoons.
Click here to view the rates.*
_____________________________________
SANParks Elandsberg Wilderness Camp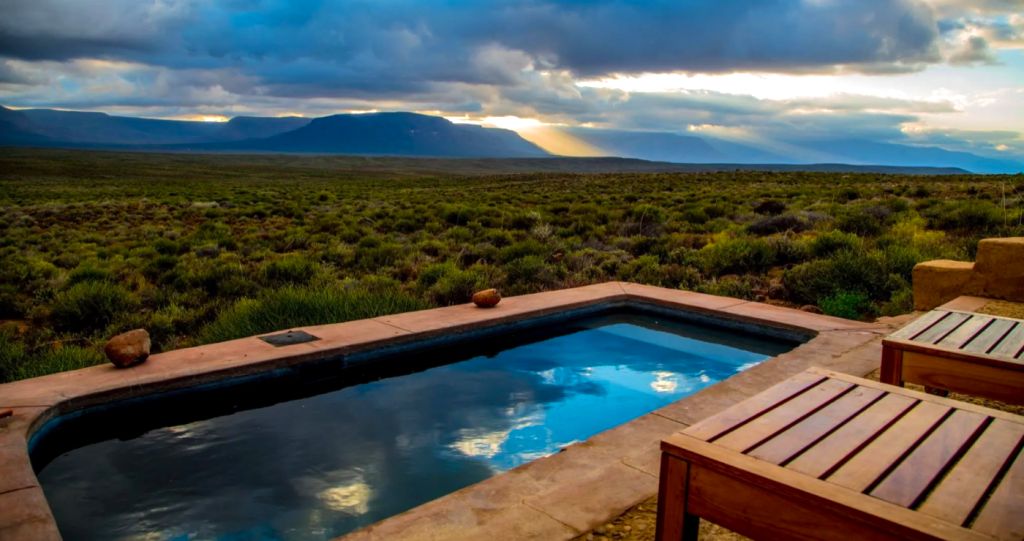 The Tankwa Karoo National Park, where this camp is situated, spans the Western and Northern Cape with the Roggeveld Plateau to the east, the Cederberg to the west and the Klein Roggeveld Mountains to the south. This means loads of nature activities and a variety of ecological triumphs to see.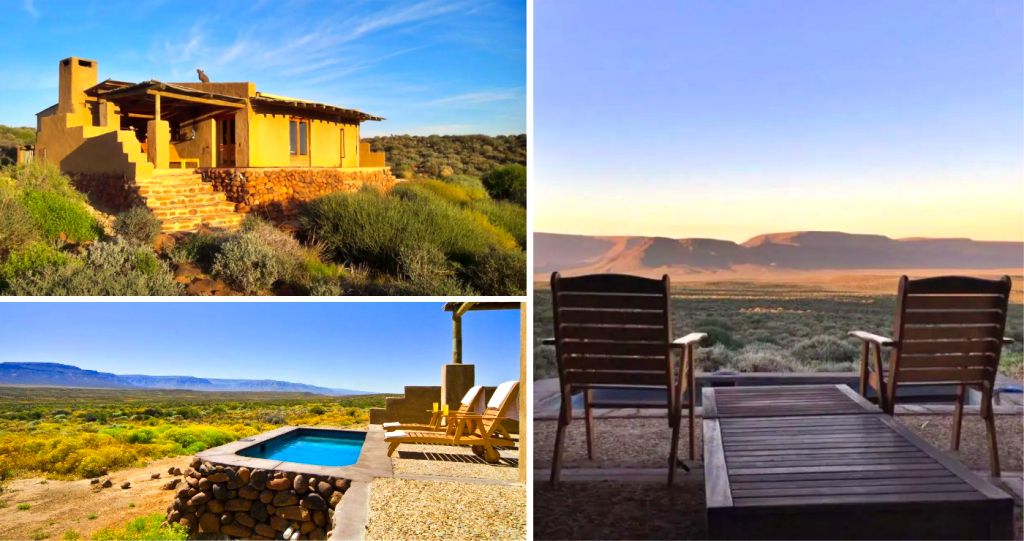 Accommodation is offered in three 4-sleeper cottages that offer a striking view of the Karoo plains. Clay and straw bricks were used in the construction of these simple, self-catering structures, each offering a private swimming pool and indoor and outdoor fireplaces. The units are powered by gas and solar panels. 
Click here to view the rates.*
_____________________________________
SANParks Highlands Mountain Retreat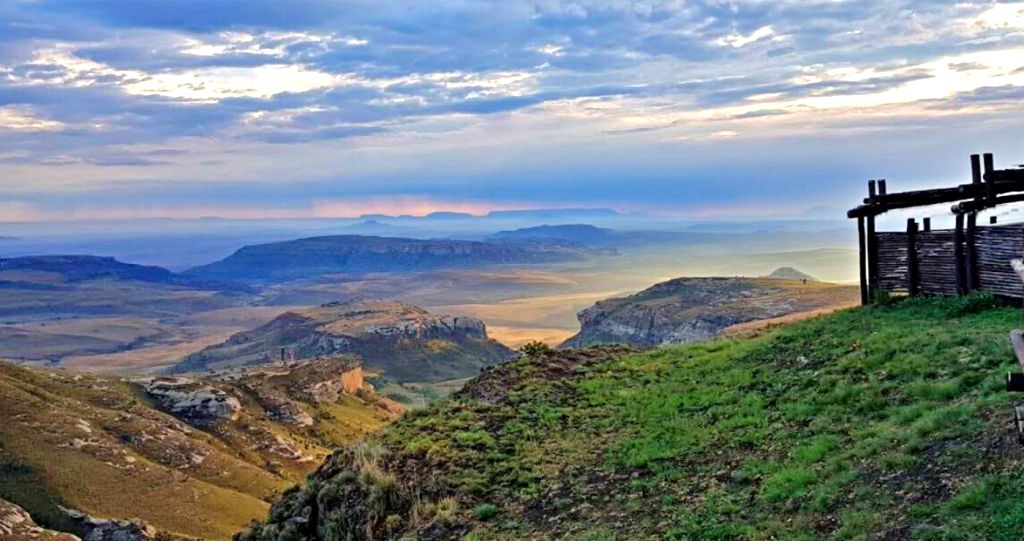 This this retreat in the glorious Eastern Free State is the perfect destination for those seeking new heights and a secluded location. The Maluti Region of this national park is a never-ending scene of rolling grasslands and majestic mountains with fauna trekking across the landscape and flora just waiting to be inspected on your walks in the fresh air.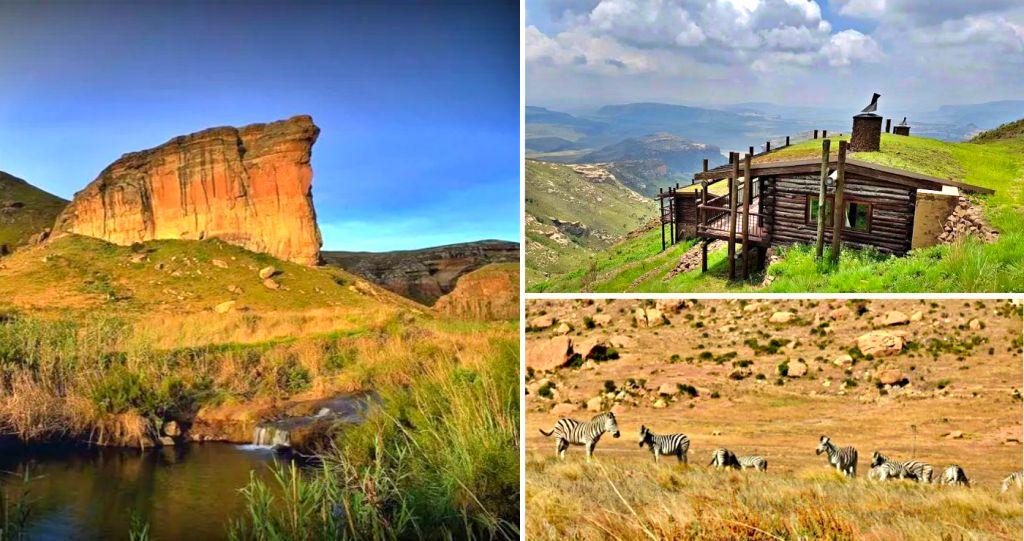 Accommodation is offered in eight wooden cabins studded into the mountainside. The 2 to 4-sleeper units are 2200 metres above sea level and offer spectacular views. They are designed to be snug in winter and cool in summer and sport self-catering kitchens, spacious bathrooms and fireplaces. 
Click here to view the rates.*
_____________________________________
SANParks Tlopi Tented Camp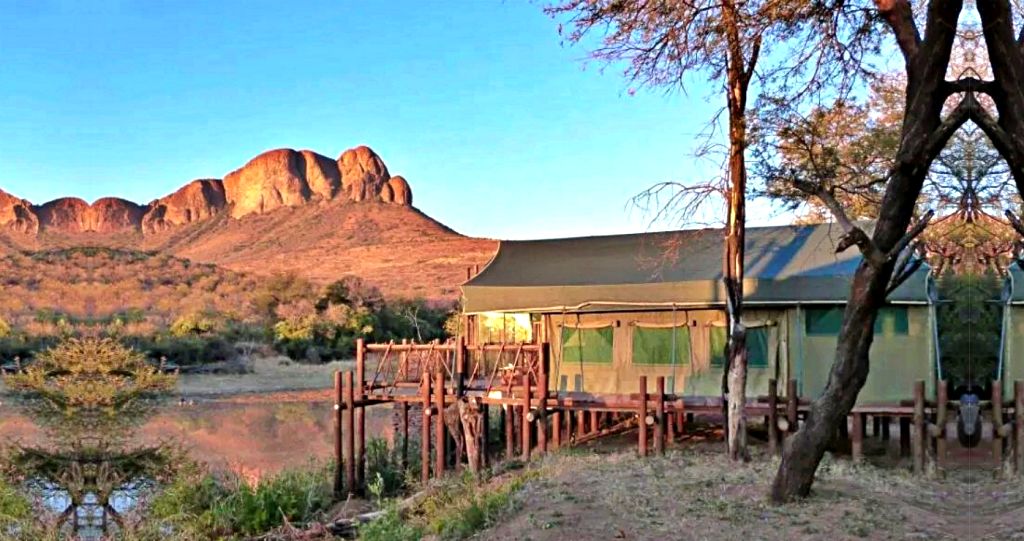 In the heart of the Waterberg Mountains, in the Marakele National Park, this stilted camp is home to a variety of game and rare yellowwood and cedar trees. With the mountains as their background, Cape vultures glide and dive through the air above the park, looking down upon the game that regularly visits the river for a drink or a cool-off session.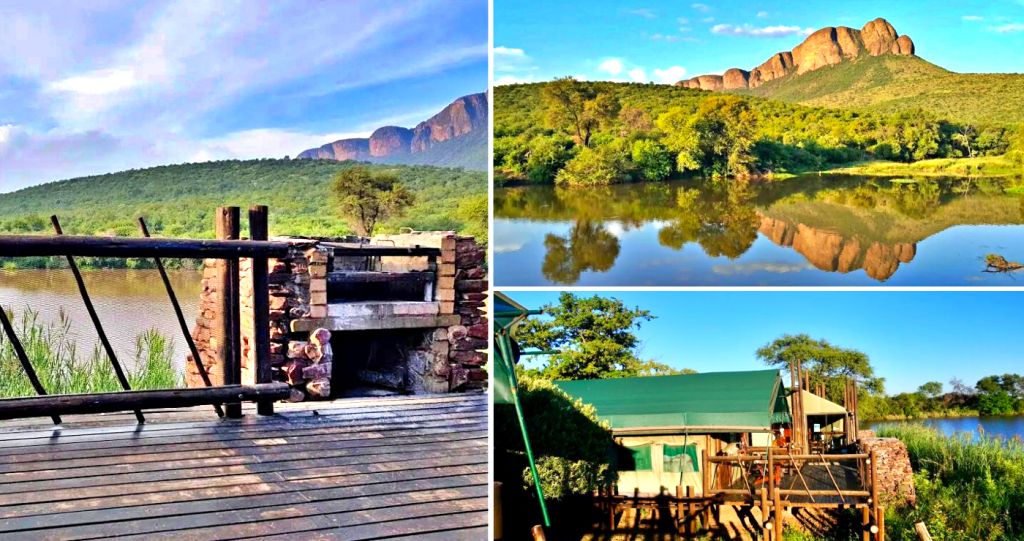 Accommodation is offered in true, unfenced camping style. The camp is seventeen kilometres from reception and each tent offers a view of the Apiesrivierpoort Dam. Each furnished tent has twin beds, a private bathroom and a private self-catering kitchen so guests can be close to nature, whilst enjoying complete convenience. 
Click here to view the rates.*
_____________________________________
SANParks Camdeboo National Park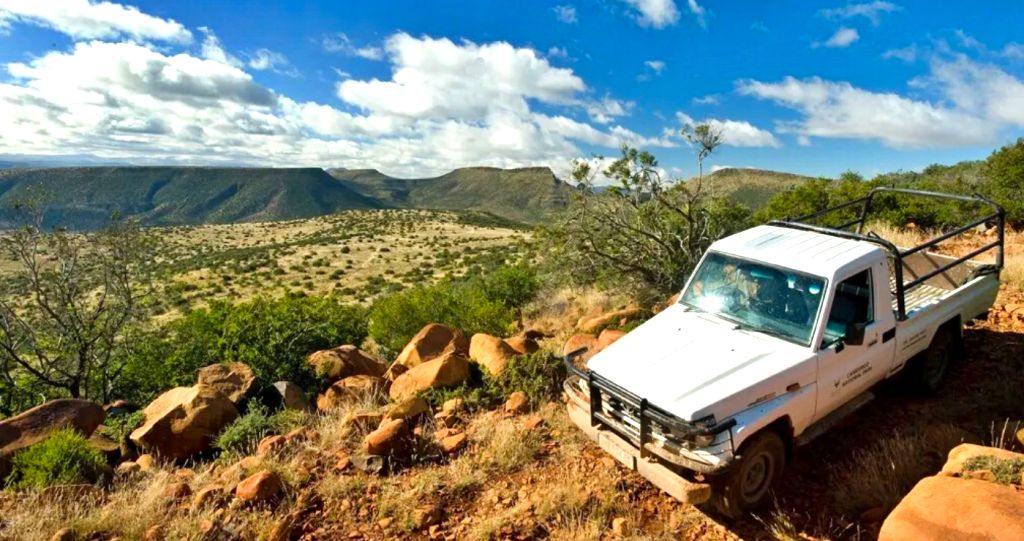 The Camdeboo National Park surrounds the Eastern Cape town of Graaff-Reinet and showcases the very best of the Karoo's impressive ecology and scenery. Buffalo, antelope such as gemsbok, eland, red hartebeest and springbok, as well as the smaller black-backed jackal and many bird species call this park home. Make sure not to miss the park's 4×4 routes, game drives and the spectacular Valley of Desolation.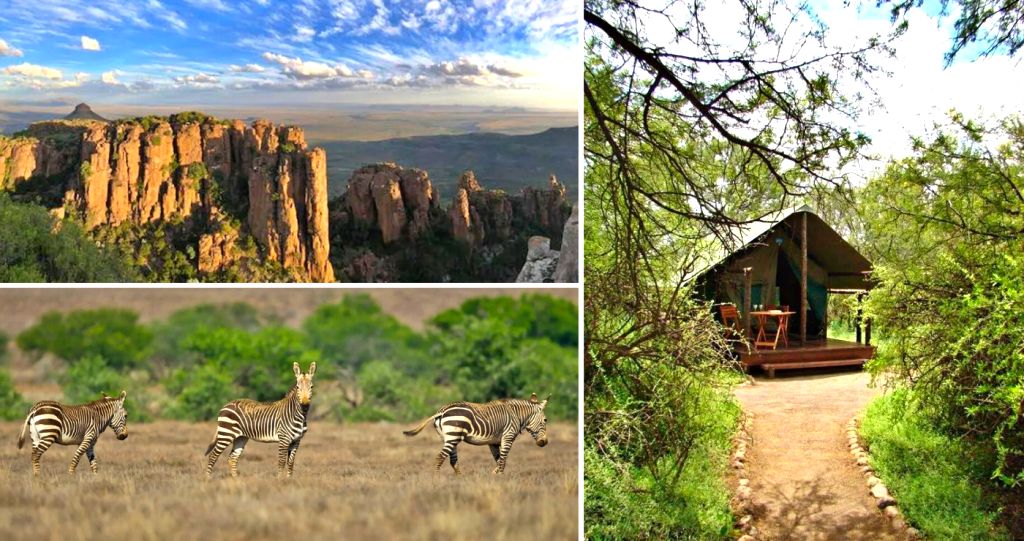 Accommodation is offered at fifteen 6-sleeper campsites on the Nqweba Dam's floodplain, each with its own power point and braai unit. Lakeview tents for two are also available. Communal ablution and self-catering facilities are provided and there is a shared braai facility. 
Click here to view the rates.*
_____________________________________
With all of this natural beauty and wild stays to fill your post-lockdown days, there are so many reasons to travel locally once things are back to normal. Be sure to let us know which is your favourite SANParks stay in the comments below.
*Please note that the entry fee to the park is not included in the rate.
Main image: SANParks Elandsberg Wilderness Camp

---
Share this post with your friends!